View from a backroad in Oregon's Coast Range, near Coos Bay.
Update: Maps of the Backroads of the Coast Range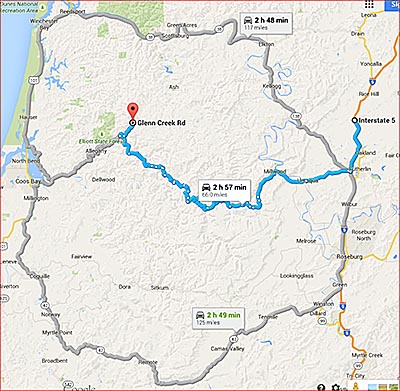 May 2015. The Oregon Coast Range is incredibly scenic, just the sort of place you might want to explore on back roads. Unfortunately, GPS apps just don't seem to work here. Sure, they'll give you a route — but zoom in on those road names! Many roads don't have names, while others have multiple names or share their names with other roads. And the ones that are labeled have names like Weyerhauser 1000, SFR 500, 27-10-19.9 ... hey, those sound like logging roads, don't they?
They are. Nearly all the Coast Range back roads shown by Google, Bing, and the other map suppliers are strictly for logging trucks. The majority are impassible or gated, and many don't exist at all. Some, I suspect, never existed. But their routing engines will send you down 'em anyway!
Let's take a realistic example. You are tootling down I-5 somewhere south of Eugene, and remember that you've heard that Golden and Silver Falls State Park is really beautiful. So you check your GPS app. How far out of your way is it?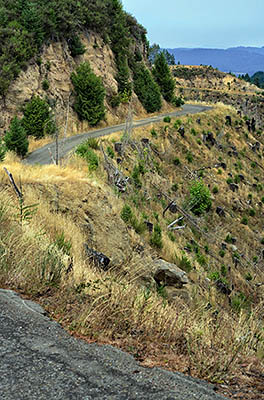 A logging road near Camp Creek Canyon. [Ask for #274.651.]If you try Google (above) you'll get several choices. Just don't pick the shortest one (in blue), even though it would save you more than fifty miles of travel. Google's own description of the route is "Follow I-5 S and Fort McKay Rd to Hubbard Creek Rd, 16 min (14.6 mi). Continue on Hubbard Creek Rd. Take BLM Rd 25-8-12, Weyerhauser 8000 Rd, Cedar Creek Rd, Wtc 8000 Rd and Weyerhouser Ln to Glenn Creek Rd in Coos County 2 h 41 min (51.4 mi)." The road names that I've bolded are all obvious logging roads, and the "Weyerhouser" roads are gated and locked.
Not to single out Google. OpenStreetMap takes you down the same logging roads as Google's short alternative without giving you any of the longer alternative routes that actually work. Bing (like Google) will show you a route that works, but if you try to shorten your drive it'll happily send you down a road that washed out in 1957. And Mapquest will send you down that long-destroyed road without giving you an alternative. The fact is that all GPS and mapping apps fill the Coast Range with junk roads you couldn't possibly follow in a passenger car, or even an ATV.
And don't even talk about your smart phone app. There's no cell reception in the Coast Range.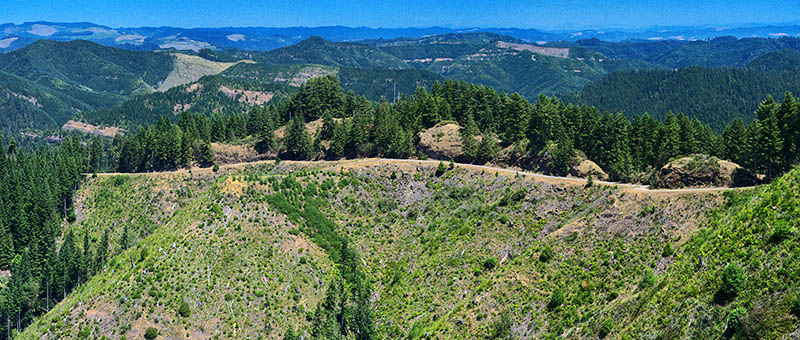 A logging road follows a ridgeline along clearcuts at elevations as high as 1,700 feet, in the Coast Range between Coos Bay and Reedsport. [Ask for #274.513.]
So here's my new project — to drive down, and accurately map, every motorable road that penetrates any distance into the Coast Range. I am starting at Coos Bay and working my way up and down. I'll be including any road that you can follow with an ordinary family car, assuming a certain amount of mountain driving experience. I'll be posting the results as I get them, along with photos and descriptions.