Map ot the Old Coos Bay Wagon Road, arranged vertically with north pointing to the upper right. [Ask for #990.131.]
Instead, it remains drivable throughout while retaining its original roadbed and (even better) its original scenery. And what scenery! Mountains, canyons and waterfalls, grass-floored valleys walled in by cliffs, and fine old historic structures dating from the time when this was Coos Bay's only land route linking it to the wide world. It is one of Oregon's finest historic and scenic drives.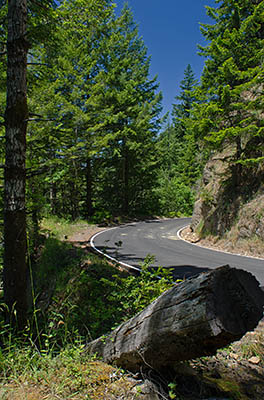 The Coos Bay Wagon Road goes through the lower section of Brewster Canyon as a paved, single lane road [Ask for #274.212.]
The West's wagon roads are intimately tied to its early railroads. When the transcontinental railroad opened in 1869 people expected it to kill the large and profitable wagon and stage trade, run by companies such as Wells Fargo and American Express. It didn't happen. Instead, the wagon and stage lines congregated around the railheads and created links to the surrounding settlements. This often included upgrading rough tracks to take regular service (and coach service required fairly good roads), or even make new roads from scratch. These included the Coos Bay Wagon Road, new-built in 1872, running from the Roseburg depot (now a brew pub) to the southeastern end of Coos Bay's magnificant natural harbor, then just being developed.
Without federal subsidies the Coos Bay Wagon Road would never have happened. This is not, however, a simple tale of good governance — far from it. The Oregon and California Railroad (locally called just "The O & C", a term you'll see on signs throughout the region) accepted vast federal land grants in exchange for building a railroad link between Portland and the transcontinental railroad in San Francisco.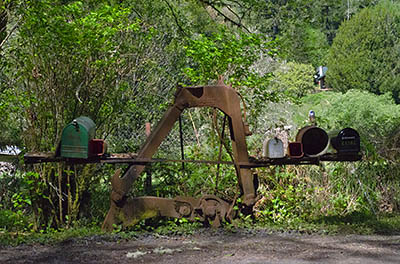 Roadside mailboxes in the Burton Prairie, near the Old Wagon Road in Fairview Community. [Ask for #274.062.]
The amount of land was astonishing — 12,800 acres per mile of track, and the O & C would run over six hundred miles! It would be arranged in a checkerboard, each square exactly one mile on a side, to prevent the railroad from monopolizing land use in any one area. But there were conditions to this; the O & C land sales were hobbled by a wagonload of regulations written by Congress with the goal of forcing the railroad to sell small plots to farming families.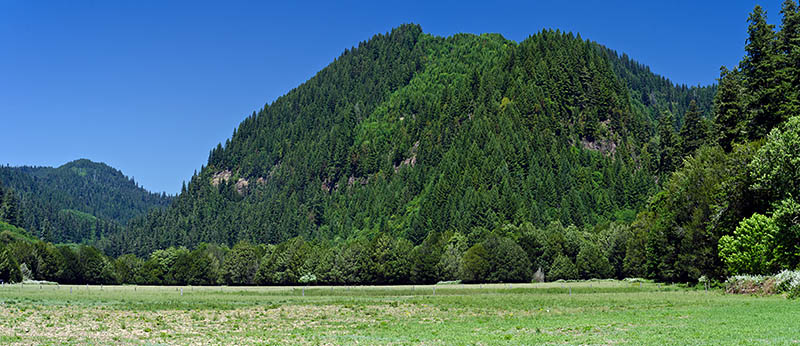 OR: South Coast Region, Coos County, Coast Range, Coos Bay Wagon Road, Sitkum Community, Panoramic view over meadows towards the steep mountains that ring this isolated cove [Ask for #274.232.]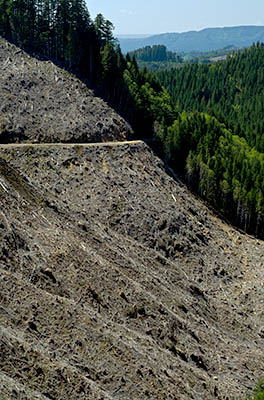 A narrow paved road gives access to the checkerboard of BLM and private lands, above the Old Wagon Road near Fairview. [Ask for #274.073.]
The land grant plan was doomed from the start. The simple fact was that most of the Coast Range lands were completely unsuitable for agriculture and the railroad couldn't give them away. Then railroad managers had what seemed at the time as a bright idea: sell the tracts thousands of acres at a time to large developers as timber lands for more than the Congressionally mandated per-acre price, and then forge paperwork to make it seem like the law was being obeyed. Win-win! Until the federal government got tired of this chicanery and took the lands back in 1916. Known as "The Revestment", these lands still form a government owned patchwork blanketing the Oregon mountains from one border to the other.
The Coos Bay Wagon Road was built as part of the O & C's construction, although ostensibly by a different company. It, too, had land grants extending along its length, given to it in 1866. It opened in 1872, the same year that the O & C opened its station in Roseburg. It was as fully involved in illegal land grants as its railroad sibling and its lands were included in the Revestment. You can see its land-grant lands as gray squares on the map above, now run by the Bureau of Land Management (BLM). The BLM maintains paved roads — narrow, bad, and unmapped, but still paved — throughout these mountains. They, too, are marked on the map above, based on my explorations in 2015.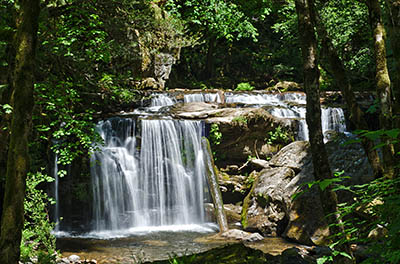 Waterfall as viewed from the Old Wagon Road [Ask for #274.233.]
The route of the Old Wagon Road is a bit of a head-scratcher. It crosses the Pacific Divide several miles north of the lowest pass, then dives down into deep, cliff-sided Brewster Canyon. It's a beautiful drive with outstanding waterfalls — but road companies and wagoneers weren't interested in beauty. They wanted level and reliable, and a steep canyon is a bad place to look for either. Not only did it take extensive cutting and filling to create a shelf for the road, but winter floods would reliably wipe out sections. It's remarkable that it was never abandoned.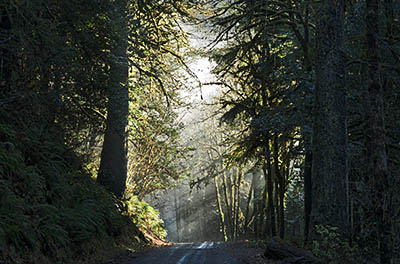 Sunlight hits the graveled surface of the Old Wagon Road in Upper Brewster Canyon [Ask for #276.274.]
Along the road lie a series of narrow, flat-bottom valleys hemmed in by mountains and these form the likely explanation for the road's location. They would furnish excellent quality land for later sale as well as create demand for shipping services once they were settled. It certainly didn't hurt that they made construction and maintenance easier. Like all nearly all such roads the Old Wagon Road hugged one side to avoid taking valuable farmland, and to keep its feet dry should the valley flood. There are five of these, and they become increasingly scenic west to east as they bcome increasingly remote. Each one has its own settlement: Sumner (at the head of Catching Slough, the lowest place on the road), Fairview (whose valley is known as Burton Prairie), McKinley, Dora, and Sitkum. The latter three valleys were formed when a gulch filled with alluvium that had washed down from the easily eroded mountains, and were raised to their current height by the faulting that is still going on. Indeed, Sitkum's broad and handsome valley (known as Brewster Valley) sits in the middle of Brewster Canyon, separating the upper part from the lower part.
For a highly detailed pdf map click here.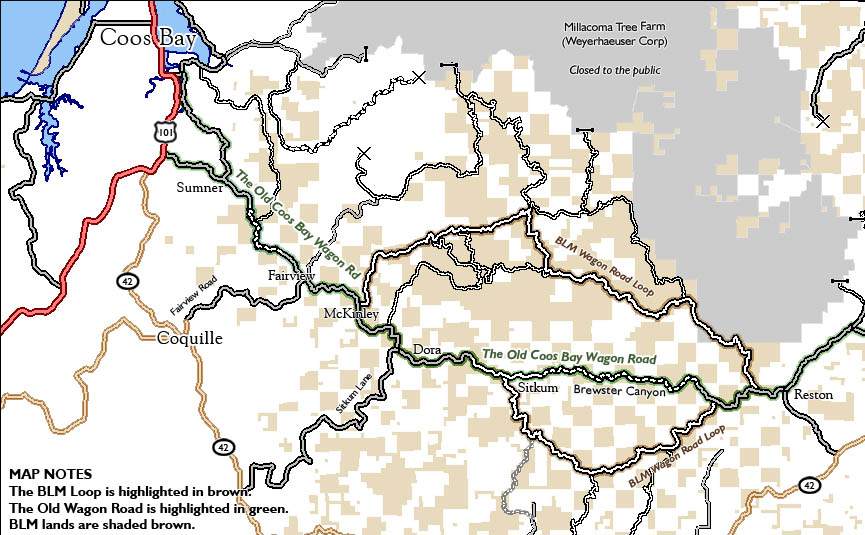 A map of the Old Coos Bay Wagon Road. [Ask for #990.142.]