Map of Oregon's Pacific coast, showing the long stretches of dunes and cliffs. The Coast Range is also shown, along with major towns. [Ask for #990.140.]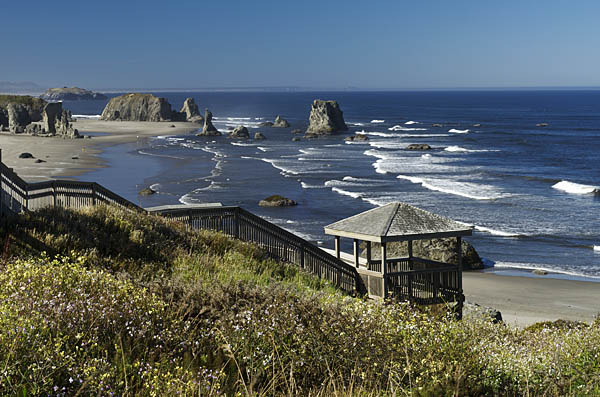 Bandon's cliffs are among the most dramatic and accessible on the Pacific Coast. [Ask for #274.346.]
Cliffs and dunes cover Oregon's Pacific Coast from one end to the other. These can be very long sections, as much as 28 miles of continuous cliffs and 55 miles of continuous dunes, and they alternate without breaks. Nor are these ordinary or insignificant features. Dunes can be 500 feet in height and may be found, still loose and drifting, as far as two miles from the beach. (Just to put this in perspective the Atlantic coast's tallest dunes, at Nags Head, NC, fail to reach 140 feet high in a field less than a mile wide.) Oregon's tallest cliff, at Humbug Mountain, exceeds 1,700 feet (about half the height of the world's tallest sea cliff) and many exceed 1,200 feet.
The dune scenery is stunning. Dunes hundreds of feet high and thousands of feet from the shore may have no vegetation at all and drift freely. Some are open to all terrain vehicles while others are left to hikers as places of silence and solitude. Older dunes are covered with a strange sort of xeric forest, often well-established with tall trees. Lakes form behind the dunes as the sands choke streams trying to reach the ocean.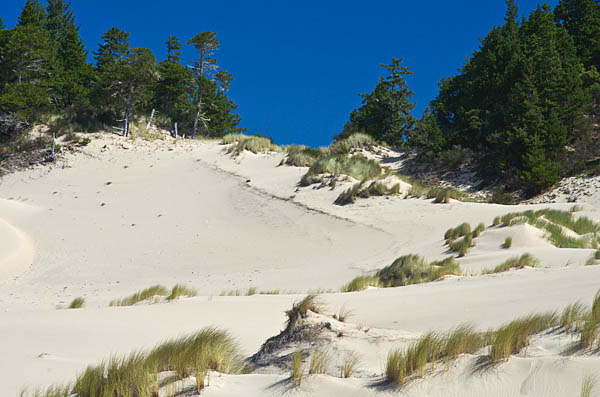 OR: South Coast Region, Coos County, Northern Coastal Area, Jordan Cove Road, Weyerhauser Recreation Site, Weyco Trail, Forests and wetlands are taking over landward areas of this large dune field; this publicly open area is owned by Weyerhauser Corp. [Ask for #274.962.]
It is the cliffs, however, that overwhelm. Oregon has 128 miles of cliff-lined coast, including some of the highest sea cliffs in the continental US. Size, however, doesn't seem to matter. The dramatic cliffs of Cape Arago at Coos Bay struggle to reach a hundred feet. The Bandon cliffs, a scant three miles in length, barely make it to sixty feet — yet may be the most attractive cliffs on the Pacific, with vertical slopes hanging over beaches and spires and natural bridges rising from the golden sands.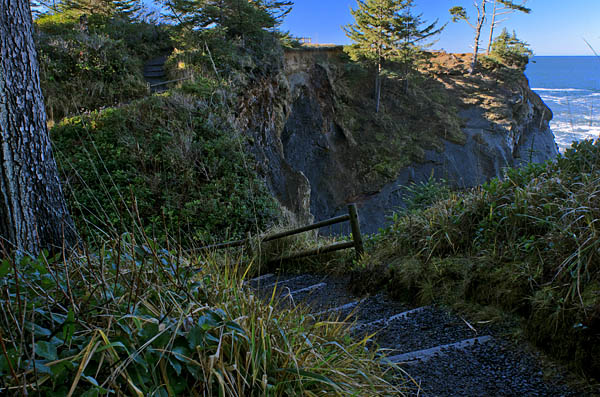 OR: South Coast Region, Coos County, Coos Bay Area, Cape Arago Parks, Shore Acres State Park, Shore Acres Cliffs, Path leads down steps along a cliff-top forest [Ask for #276.356.]
In this section of BlogPacifica I explore Oregon's Pacific Coast from one end to another, from my home base in Coos Bay. You'll find a lot of Coos Bay here; after all, it's easy for me to grab a few shots of it on a spare half-day. But I'll be working my way up and down the coast sytematically, adding pages on cliffs and dunes as I go — how to find the best locations, and what you'll see once you get there.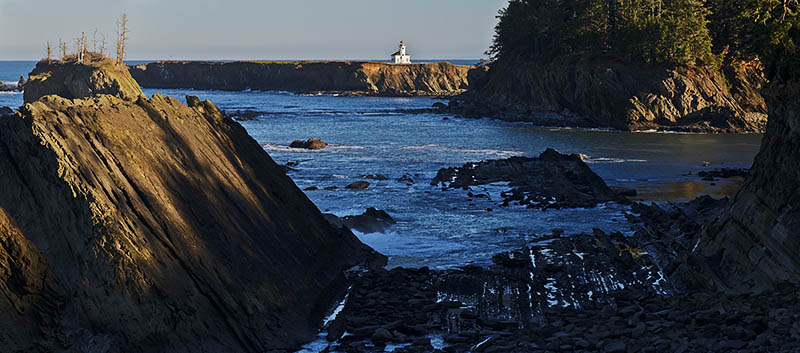 OR: Coos County, Coos Bay Area, Cape Arago Parks, Sunset Bay Cliffs, View towards Cape Arago Lighthouse [Ask for #276.299.]