Our luck with food continued in the Big Sur. We had a lovely late-lunch/early-dinner at the Coast Gallery and Cafe, an eccentric grouping of old redwood water towers converted into gallery space, with wide views from the upper level cafe. Next morning we enjoyed an elegant and ample breakfast at the Big Sur Roadhouse. The latter was directly across the street from the comfortable little cabin we rented in Big Sur Campground, nestled deep among giant redwoods. I wish I had gotten pictures, but jet lag had settled in and tired me out.
At Monterey the Big Sur ends and a long strip of fairly ordinary suburbanization begins. At least that's what you see from the Pacific Coast Highway; perhaps on my next trip I'll have the time to poke down the back roads. Past Santa Cruz the PCH goes rural again, and here we had our final Glorious PCH Meal, at the Davenport Roadhouse.
Driving through San Francisco finished off my jet lag, but crossing the Golden Gate Bridge was wonderful anyway. North of the bridge is a concentration of clean, modest motels and we went to ground. We did, however, get to sample, for the first time in our lives, the famed In 'n Out Burger. Honestly, I don't see what the fuss is about. I guess it's something you have to grow up with, like Steak 'n Shake in the Midwest.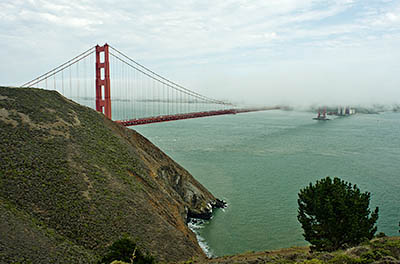 We also visited the Marin Headlands Tract of the Golden Gate National Recreation Area. The views are spectacular from this bleak, windswept headland, and we got to watch the rain blow in and envelop the Golden Gate Bridge below. The next day we decided to head straight to Eureka and the Redwoods National Park via US 101, to give us an extra day in redwood country.